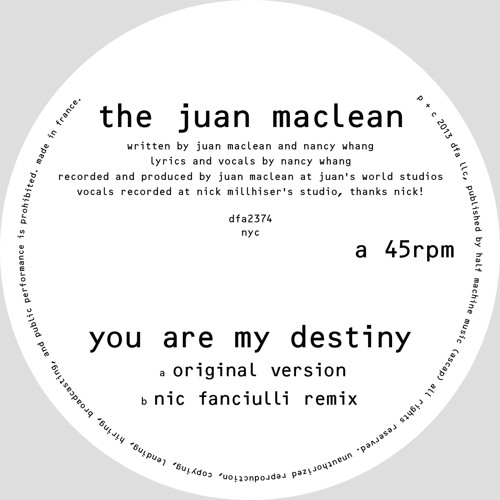 Generally, I trust everything that comes out of
DFA
. The can-do-no-wrong New York standout has been pumping glorious off-kilter dance inspired production since its 2001 inception, so at this point its hard to ever ignore it.
The newest DFA material comes from
The Juan Maclean
, who's been a little quiet since his 2009 LP
The Future Will Come
. The latest comes with some help from former
LCD Soundsystem
(a tear shall be shed anytime the demise of LCD is mentioned) member Nancy Whang.
Included in the 12", which will be released April 9, will be a
Nic Fanciulli
remix. Limited edition White Label's are available
now
.
Check out the edited version below, along with a video of the full cut.
The Juan Maclean "You Are My Destiny" from DFA Records on Vimeo.